Custom Fiber Optic Interfacility Link Systems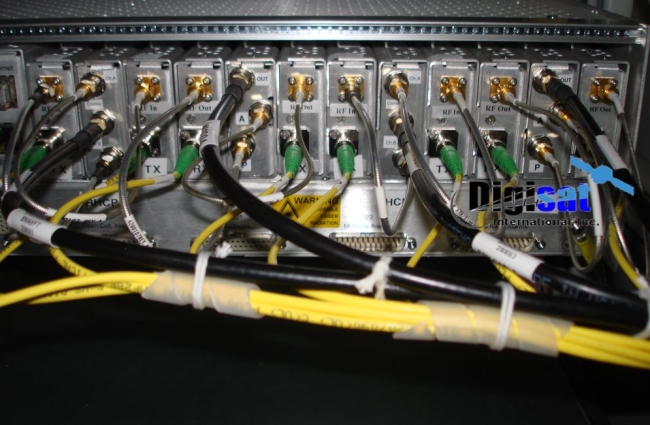 Digisat's extensive experience with Fiber Optic IFL systems encompasses over 20 years of real world engineering, installation, operation and testing expertise. Starting in the mid 1990s, Digisat was among the first satellite system integrators to recognize the benefits of Fiber Optic IFL systems when compared to traditional coax.
Extensive Optical Experience
Throughout the years, we've worked hand in hand with several major Fiber Optic transceiver manufacturers on the development of reliable and feature rich hardware that's specifically geared towards satellite communications and video broadcast systems. Today, we've successfully engineered and integrated dozens of Fiber IFL systems throughout the world using the most reliable equipment on the market today from Foxcom. Our engineered Fiber Optic IFL systems are capable of either up or down converting 70 Mhz, L-Band, C-Band, X-Band, Ku-Band and DBS Band frequencies for seamless modem, modulator, converter and amplifier interfacing. Whether you're looking to reduce loss in long coax runs at a gateway earth station or replace obsolete 70 Mhz line amplifiers at a teleport, Digisat has the perfect Fiber Optic IFL Solution for your requirements.


Turnkey Fiber Optic IFL systems
Indoor and Outdoor Fiber IFL Installation
RF Matrix Switch Systems
Custom Fiber Optic Patch Panels
Ballistic Fiber Optic Cable Assemblies
Custom RF Divider and Combiner Subsystems
Outdoor Antenna Mount Fiber Optic Transceivers
Fully Redundant Fiber Optic Transceiver Systems
Custom RF Patch Panels
Engineered Interfaces for Satellite Modem & RF Converter Subsystems
Group Delay Testing
Please contact us today for more information on Digisat's custom RF over Fiber IFL solutions that can be custom tailored to your unique requirements. Or, browse our extensive lineup of

Foxcom Fiber Optic IFL Equipment


Questions?

US Toll Free: +1-855-DIGISAT

|

International: +1-321-676-5250

| Contact US